1941
In 1941, M.Arifi BERKER based on his experiences with shipping agencies and his friend Milo BALİÇ working in tobacco trading in İstanbul, decided to start a international transport company.
Rail transport being the only way of international transport by land of these days, Leveks ( Levant Express ) initiated new services from Europe of after war and became a reliable player in the market based on their reputation as trusted partner which was the key quality of these difficult years in Europe.
Leveks became the main supplier of the Turkish market, they enlarge their business scoop with strong partnerships established in Western Europe and newly formed Eastern Europe countries.
1965
The second generation of BERKER family start to get involved into the management of Leveks business during late sixties.
Ahmet Berker and Mehmet Berker, decided to rename the company in 1971 as Berker Nakliyat Ltd. and enlarge the business by playing pioneer role in road truck transport / groupage service which is the new mode in seventies.
Berker's 30 years worldwide partner Schenker AG is playing an important role into this successful performance.
1985
BerBen Express established in 1985 managed by P.Bengiserp to represent exclusively AEI. BerBen Express, is the 3rd generation of our family business tradition had the opportunity to pioneer the modern airfreight industry into Turkey. With the very valuable know-how from AEI, Berben introduced the very first air consolidation technics to Turkish market.
With a very young team BerBen became the Turkish market leader in air freight very quickly, In 1987 obtain the best agent in European region for AEI network.
| | |
| --- | --- |
| | BerBen Express, thanks to the new liberated Turkish economic model had to serve the very rapidly growing business needs of the country. Berben Express reaches 7 offices covering all important industrial areas of Turkey, with 200 staff early nineties and decide to invest in a dedicated office space very close to İstanbul Atatürk Airport. All the main players of Turkish economy in Telecommunications - Defense & Aviation - Electronics & Household goods - Automotive - IT - Pharma and Textile were using BerBen services. |
| | |
| --- | --- |
| BerBen Express young and experienced management stayed into the company for at least a decade and played a key role into DGF Turkey success to keep their market leader position . | |
2003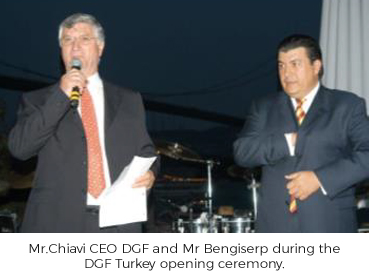 DP ( Deutsche Post ), based on their new millennium strategy to invest into transport business, stepped in forwarding world by the purchase of Danzas in 1998 first than AEI in 2000.
The first agency acquisition in EMA region was BerBen Express based on the importance of the Turkish market. DHL Global Forwarding Turkey , was established by the purchase of their exclusive agent of 18 years BerBen Express.
1993
Serp Logistics Ltd, established in 1993 as BerBen Logistics Services to serve as investment company for BerBen Express Group, became the flag carrier in June 2003, after the business and the brand of BerBen was purchased by DHL Global Forwarding.
The company renamed as SERP Logistics Services in June 2003 and all commercial activity of SERP Logistics were frozen until 2010 while Mr. Bengiserp was involved with the management of DGF on a local and regional level.
In 2010, Serp Logistics decide to be an active player again.